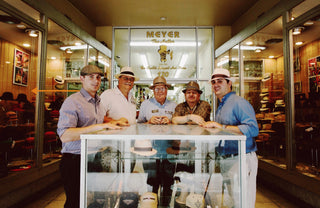 A Deep History in Hats
Established in 1894 by Sam H. Meyer
Meyer The Hatter is the South's Largest Hat Store. It was established in 1894 by Sam H. Meyer in the first block of St. Charles Avenue, in Downtown New Orleans. Originally called Meyer's Hat Box, the small shop prospered over the years by selling Stetson hats and men's ties. In the 1920s, Andrew Meyer, Sam's son, started working with him in the store.
In 1937, Meyer The Hatter moved to a new location down the block at 136 St. Charles Avenue.
Andrew's son, Sam Meyer II, started helping his dad in the store as a teenager during the 1940s. After serving their country in the Army Air Corps during World War II, both Sam and his brother, William, started working full-time at Meyer The Hatter with their father Andrew. They started selling Borsalino hats after the war and took on the Dobbs and Kangol lines in the 1950s.
In 1961, the store moved to a much larger building at 120 St. Charles Avenue, its present location. Here the store has show windows out front, a selling floor, two upper floors for stock, and a balcony for watching Mardi Gras parades.
Today, Meyer The Hatter is still a unique and truly family business. Sam is still working 3 days a week, at age 98. Sam's wife, Marcelle, works in the store as well as their sons Paul and Michael, the 4th generation. Paul's wife, Pascale, works full time, helping with sales, bookkeeping, and shipping. Cedric Meyer is one of the 5th generation members along with his brother, Christopher.
Sam's brother William retired in 2005 after 57 years in the store. He died on December 26th, 2012. William was 86.
So the hat tradition will continue at one of America's Finest Hat Stores… Meyer The Hatter!